The House Water Transformer
contains a star twice the size of the one in the Water Transformer H2QW. The H2QH is installed directly onto the water pipe of the apartment or the house. There is no need to tap into the water pipe system. Hence, the Transformer can be mounted by even an unskilled person.
The House Water Transformer H2QH proves just as appropriate for residential houses as for food processing.
Ø 70 x 215 mm, 770 g.
CHF 919.–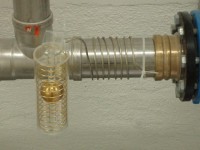 ‣ DOWNLOAD PRODUCT SHEET (PDF)
‣
TELL A FRIEND
‣
ORDER